Library 287 V-Portfolio
Blogs are a great way to show off your stuff, so I thought I might use mine to show off my V-Portfolio now available for anytime viewing on Second Life at
http://slurl.com/secondlife/SJSU%20SLIS/216/31/33
I've taken a lot of great photos of all my work done in Second Life and uploaded them to photobucket. You can get to my photobucket account at
http://s267.photobucket.com/albums/ii286/mmaglio/
Here's a short run up of what is inside my v-portfolio.
There is an explanation of how my SL experience has helped me meet some of the Library Science programs required competencies. I have documented six of them:
B, D, H, I, L, and O.
B. compare the environments and organizational settings in which library and information professionals practice;
D. apply the fundamental principles of planning, management and marketing/advocacy;
H. demonstrate proficiency in the use of current information and communication technologies, and other related technologies, as they affect the resources and uses of libraries and other types of information providing entities;
I. use service concepts, principles and techniques that facilitate information access, relevance, and accuracy for individuals or groups of users;
L. understand the nature of research, research methods and research findings; retrieve, evaluate and synthesize scholarly and professional literature for informed decision-making by specific client groups;
O. contribute to the cultural, economic, educational and social well-being of our communities.
Here are a few shots from my v-portfolio that documents these competencies.
Competency D
This shot shows the book discussion that I held in SL. If you click on Brian Whites book it will take you to the URL where you can view his book electronically for free. Unfortunately if you aren't a San Jose Student or a San Jose Public Library card holder, you won't be able to access the book.
Competency B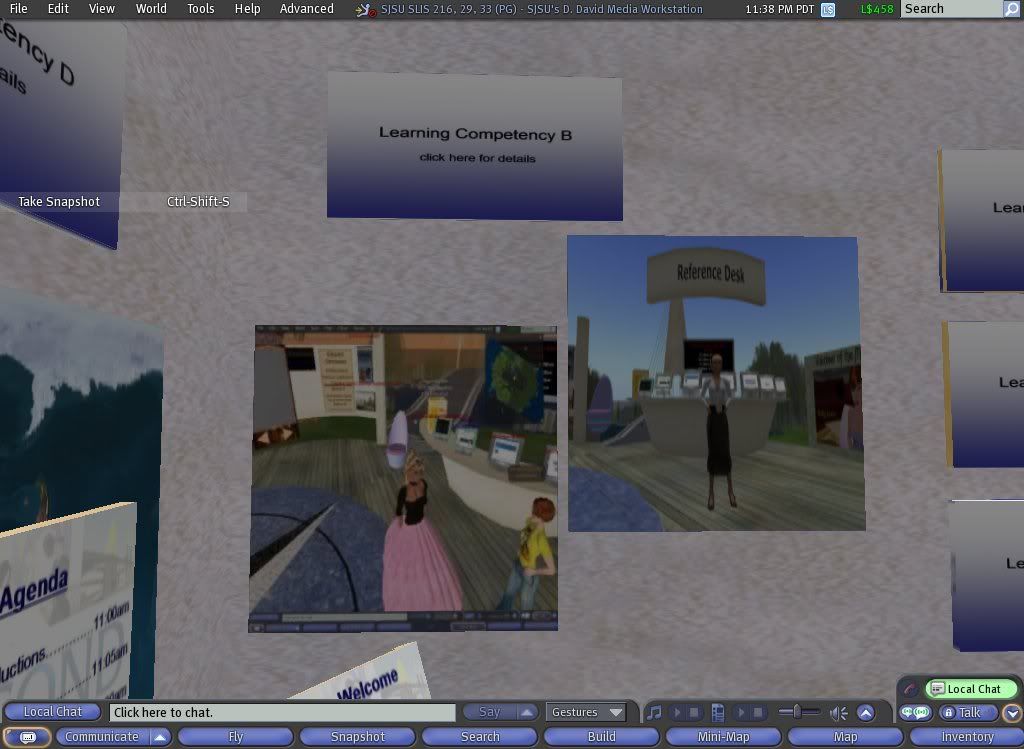 This shot shows virtual reference desk experience I had. I compared it to my experirences with the real life reference desk.
Competencies L, H, and O.
Comp H talks about the ways in which everything in the portfolio is an example of how I have learned to use technology to provide library services.
Comp O discusses the information kiosk that is sitting below the three competencies. If you click on the kiosk you will be given information about groups in Second Life.
Competency I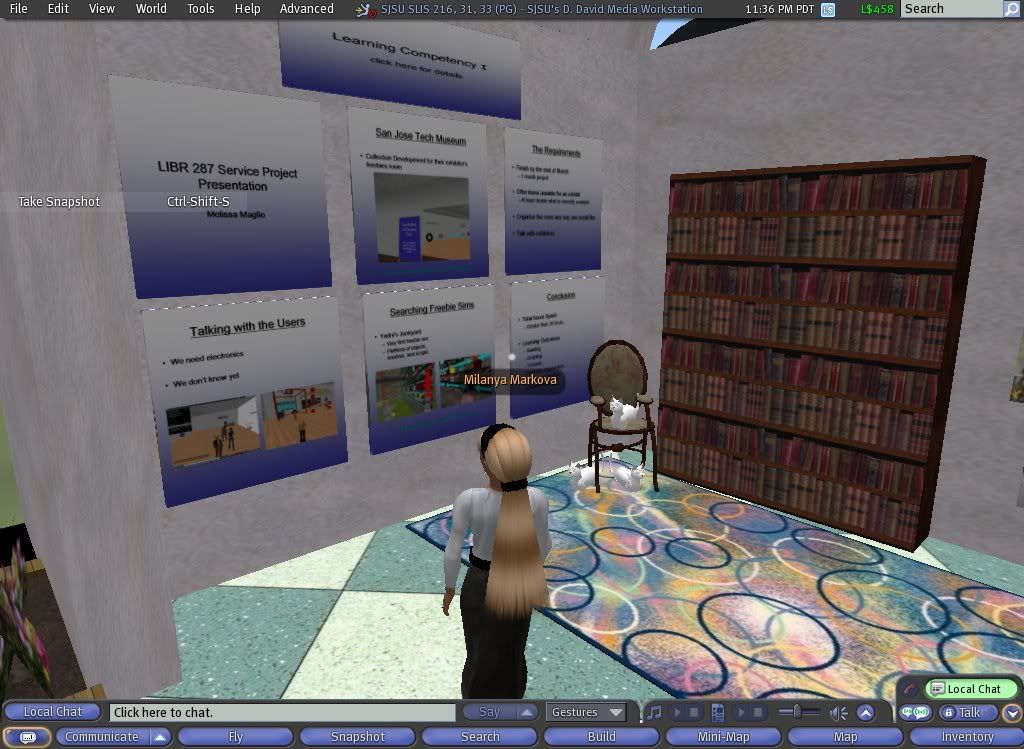 This final shot shows competency I. It is a display of the presentation I gave on the service project I did to help the San Jose Tech Museum. This was a huge portion of the class and perhaps one of the projects that really helped me learn the most about what SL has to offer.
Lastly, I have a shot of me working on adding the cute white cats into my v-portfolio.
The reason I included them was because they kept me company while I was spending so many hours in world. I thought they would appreciate a place in my v-portfolio because I would probably have never bothered to take any breaks from sitting in front of the computer if they hadn't bugged me to feed them, brush them, play with them. I think virtual cats are a lot easier to take care of but real life cats are definitely a whole lot cuter.